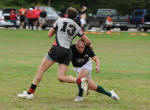 Making the tackle
Nick tackles an opponent from the Dayton Flying Pigs in Oct 2009.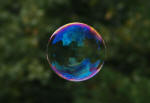 The Bubble
My granddaughter made some bubbles. This beauty of soap distorting sky colors was captured on a September afternoon.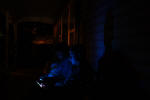 Night Surfing
Blackberry backlighting highlights Nick and Robin in August '09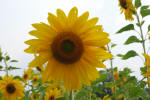 Summer Sunflower
Captured off the side of Morse Road on the way home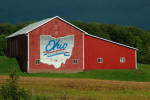 Buckeye Barn
A storm on the horizon accents this barn caught on the way to Cleveland Aug '09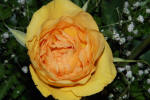 Birthday Rose
One half of the red and gold birthday rose set.
Peeking through the clouds
A sun breaks through the clouds in Cleveland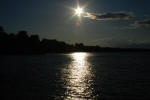 Sun over Lake Erie
An extremely fast shutter speed highlights a lake Erie sun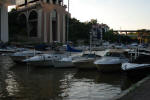 Ermerald Necklace Marina
Boats at rest at the Emerald Necklace Marina in Cleveland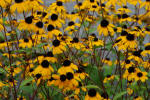 Black Eyed Susans
Some black eyed Susans enjoy August afternoon sunshine in Peninsula, Ohio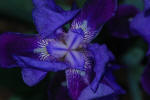 Flower beauty
Evening sunlight highlights a Bell flower on May 7 in Newark, Ohio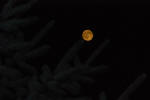 Moon Rising
A moon rises over Newark, Ohio in August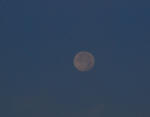 Moon setting
A moon setting is captured before the Joe Bell Open breakfast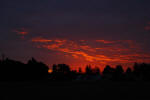 Sun Rise over Newark
Before the St Albans Outing, a beautiful morning sunrise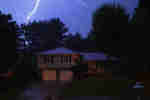 Summer Storm
Lightning captured during a June thunderstorm. Aperture was set at F4 with a shutter speed of 8 sec.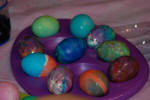 Colored Easter Eggs
Traditional coloring of Easter eggs always brings out something special.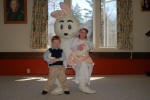 Posing with the Easter Bunny
Austin and Madison stike the pose with the Easter bunny following Easter Mass.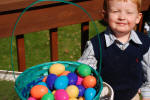 Proud Reaper
Austin displays the fruits of his efforts following an Easter egg hunt.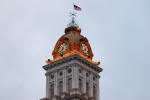 County Courthouse
Licking County Courthouse. Built in 1878. County Seat in Newark, Ohio.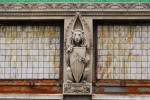 Winged Lion Shield
Home Building Association Bank, Newark, Ohio. Built in 1915 by Louis Henry Sullivan as a bank. It is now an ice cream parlour.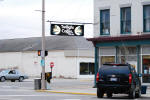 Public Lynching
On July 08, 1910, a public lynching was held on the square in downtown Newark, after the victim was broken out of the county jail by a mob. This was the second and final lynching in Licking County.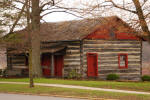 Town Square Cabin
Could not resist capturing the beauty of this aged log cabin along a town square in Ashland County, Ohio.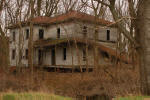 Abandoned
Although dilapidated in appearance, this house is surrounded by trees without leave and still has character.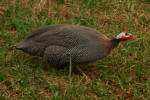 Lone male Pearl Guinea hen

While traveling south on Ohio Route 60, I saw this huge hen on the side of the road and had to get a photo.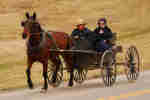 Old Order Amish Country
An Amish family travel north on Ohio Route 60 using conventional transportation.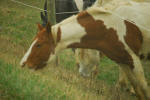 Grass is greener on the other side
A horse stretches the limit to see if the grass is greener on the other side of the fence.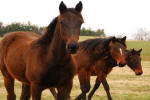 Beautiful animals
Horses at the Spring Haven Farm near Utica, Ohio.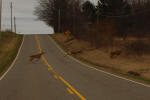 Deer thumbing their noses
Three deer cross Martinsburg Road and head into the woods at the Scrobot farm.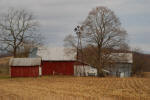 Dog Hollow Road Farm House
Beautiful farm off of Dog Hollow Road in St. Louisville, Ohio.
Waiting patiently
Robin captured this Amish family horse waiting patiently for its owner in a designated parking lot outside the Ashland County Fairgrounds.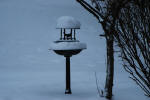 Birdbath
Front yard bird bath in January 2009.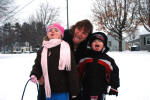 Catching Snow Flakes
Robin, Madison and Austin catching some January snowflakes.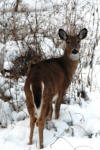 Deer in Newark
A deer along the side of the road in Newark
Frozen in time
Branches in our front yard bush are frozen from a January rain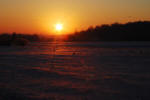 January Sunrise
A sunrise in January in Granville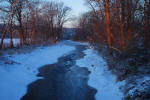 Near frozen stream
A stream before sunrise in Granville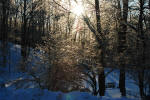 Sunrise through the trees
The sun begins to start another day peeking through the trees in Granville over a solitaire park bench
Fence lined road way
A photo on Milner Road in Granville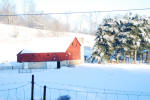 Winter Barn
A winter barn in Granville in January 2009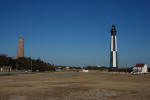 Old and New Ft. Story Lighthouses
Oldest lighthouse in the U.S. alongside the new lighthouse at Ft. Story (Virginia Beach), Va.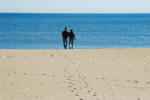 Walking to the Ocean
Christina and Carl take a stroll from Virginia Beach to the Atlantic Ocean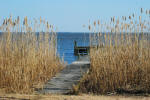 Albemarle Sound, NC
A lone deck leads to the Albemarle Sound in North Carolina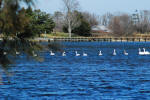 Swans on the Sound
Swans swim on the Albemarle Sound in N.C.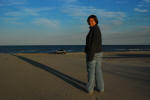 Shadow to the Atlantic
Christina's shadow leads to the Atlantic from the southern shores of the Outer Banks in N.C.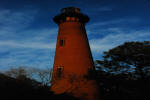 Currituck Lighthouse-Corolla, N.C.
The beacon of the Currituck Beach Lighthouse was built on Dec 1, 1875.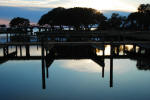 Tranquity in Corolla
A tranquil sunset accents the Albemarle Sound in N.C.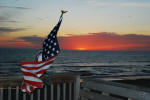 Sunrise over the Atlantic
A makeshift Old Glory rises with the sun on a deck outside of the Hampton Inn in Corolla, N.C.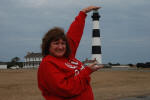 Holding a Lighthouse
Robin shows her strength as she holds the Bodie Island Lighthouse in her hands. The Bodie Island lighthouse is known for her solid stripes.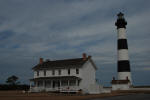 Bodie Island Lighthouse
The current Bodie Island Lighthouse is the third that has stood in this vicinity of Bodie Island on the Outer Banks of North Carolina and was built in 1872. It stands 156 ft. tall.
Capt Hatteras Lighthouse
Cape Hatteras Lighthouse is the tallest in the nation and famous symbol of North Carolina.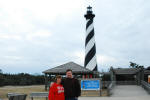 Our favorite lighthouse
Robin and I stand in front of our favorite lighthouse. We've loved Cape Hatteras since 1987. We've fished, camped and laid in the sands of Hatteras.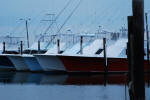 Boats at Oregon Inlet
Boats stand at the ready in the Oregon Inlet.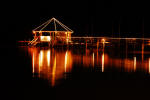 Pier at night in Duck, N.C.
Could not resist capturing this pier in Duck, N.C., during a February 2009 visit. Captured with a tripod and a timed exposure.
Getting small
Robin and I took advantage of this oversized lawnchair. Austin looked at it and said "You and Mamma got small."
A boat in Hatteras, N.C.
Captured this lone boat waiting for a ferry in Hatteras, N.C.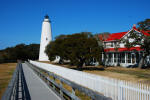 Ocracoke Island Lighthouse
The Ocracoke Island Light as built in the town of Ocracoke, on Ocracoke Island, N.C., in 1823 by Massachusetts builder Noah Parker. The lighthouse stands 75 feet (23 m) tall.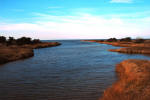 Inland Waterway
Captured this inland waterway from Ocracoke Island.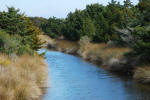 Inland Waterway
Another photo of plants and vegetation from an inland waterway on Ocracoke Island leading to the Atlantic Ocean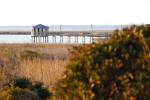 Nags Head Pier
Captured this pier in Nag's Head, N.C. prior to a February 2009 sunset.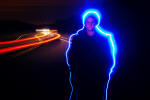 Special effects
A 30 second timed exposure with a blue flashlight highlighting Carl. A car passed by leaving red tail light trails and an oncoming vehicle begins to leave headlights during the final couple seconds of the exposure.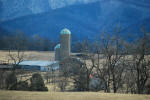 Farm in the Appalachian mountains
On the way home from our Feb 2009 Valentine's getaway we captured this farm in the mountains
Cattle keeping warm in the snow
Could not resist capturing this barn with cattle during snow flurries in the West Virginia Mountains in Feb 2009.